Twitter do americano GaGa Daily afirma que cantora irá trazer turnê ao país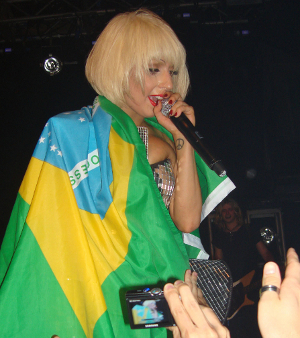 Foto por The Grosby Group
Fãs brasileiros já celebram vinda na internet
Ainda não é oficial, mas um dos maiores fã-clubes da cantora Lady GaGa garante que a cantora irá se apresentar no Brasil em 2010. Minutos depois de postar a mensagem no Twitter, o tópico #GaGainBrazil já estava entre os mais citados do site de relacionamento.
Atulamente, Lady GaGa viaja pelos Estados Unidos e pela Europa com a turnê The Monster Ball. Em seu site oficial, a agenda de shows confirma apresentações até 8 de março, nenhuma delas na América do Sul.
A cantora americana é uma das revelações de 2009 e é autora de hits como Just Dance e o recente Bad Romance.
Sempre em contato com os fãs pelo Twitter, Lady GaGa ainda não postou nada sobre sua suposta vinda ao país.

Posted by Paulo Studio2002 @ quarta-feira, 30 de dezembro de 2009
0 comments
0 Comments
No comments yet. Be the first to leave a comment !