O ex-guitarrista do Guns N´Roses lançou um álbum com diversas participações especiais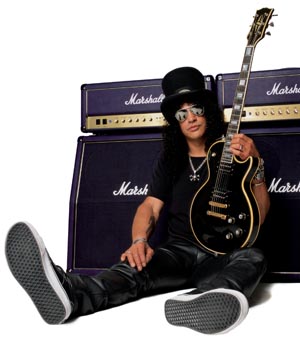 Slash já tocou no
Guns N´Roses e no Velvet Revolver
Se você é fã do guitarrista Slash, eternamente lembrado pela sua participação no Guns N´Roses, pode comemorar.
O músico disponibilizou seu próximo disco solo, que será lançado dia 6 de abril nos EUA, para ser ouvido de graça na internet. O álbum é recheado de participações, entre elas, os velhos companheiros do Guns, Izzy Stradlin (guitarra) e Duff McKagan (baixo).
Para ouvir o disco, acesse:
http://music.aol.com/new-releases-full-cds/#/15
Repertório de Slash (2010)
1. Ghost - com Ian Astbury e Izzy Stradlin.
2. Crucify - the Dead com Ozzy Osbourne e Taylor Hawkins
3. Beautiful Dangerous - com Fergie
4. Back From Cali - com Myles Kennedy
5. Promise - com Chris Cornell
6. By the Sword - com Andrew Stockdale
7. Gotten - com Adam Levine
8. Doctor Alibi - com Lemmy
9. Watch This - com Dave Grohl e Duff McKagan
10. I Hold On - com Kid Rock
11. Nothing to Say - com M. Shadows
12. Starlight - com Myles Kennedy
13. Saint Is a Sinner Too - com Rocco DeLuca
14. We're All Gonna Die - com Iggy Pop

Posted by Paulo Studio2002 @ sexta-feira, 2 de abril de 2010
0 comments
0 Comments
No comments yet. Be the first to leave a comment !