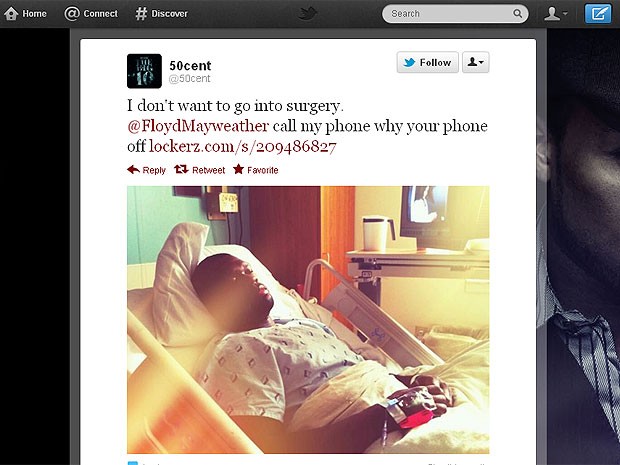 A estrela do rap
50 Cent
recupera-se em um hospital de Los Angeles e aproveitou para divulgar no Twitter algumas fotos no local. Numa delas, ele surge com alguns ursinhos de pelúcia. Ele também aproveitou sua página na rede social para anunciar o lançamento em breve de seu novo disco, apesar de muitos suspeitarem que se trata de um truque publicitário.
O rapper enviou uma série de mensagens no Twitter desde a quarta-feira (16), nas quais havia imagens dele numa cama depois de ser hospitalizado por uma infecção estomacal, segundo declarou seu amigo DJ Drama à revista especializada especializada XXLMag.com.
"Estou no hospital, mas meu disco 'Gangsta Grillz Lost Tape' está terminado, e sairá em breve", afirmou em um dos primeiros 'tweets' na quarta. "Não quero ser operado", continuou em uma segunda mensagem acompanhada de uma foto. "Me sinto melhor hoje, creio que sairei em breve do hospital", afirmou nesta quinta.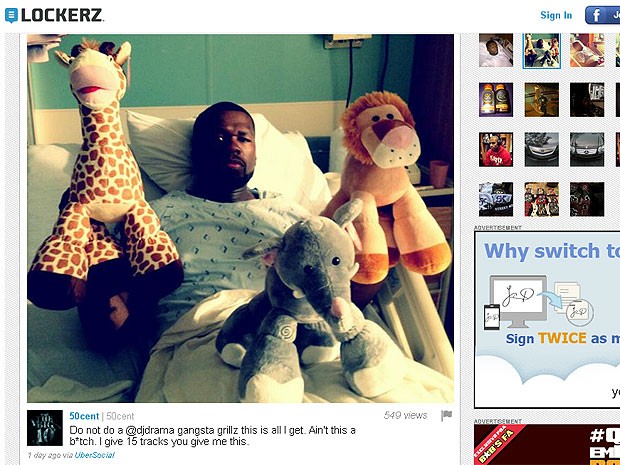 A revista "People" questiona a veracidade de sua hospitalização: "50 Cent está realmente com doença estomacal ou só precisa de atenção?", enquanto cita fontes que afirmam que sua internação foi um truque publicitário para promover o lançamento de seu próximo álbum.

Posted by Viviani Corrêa @ sexta-feira, 18 de maio de 2012
0 comments
0 Comments
No comments yet. Be the first to leave a comment !