Festival abre com Bon Jovi nesta sexta-feira (4)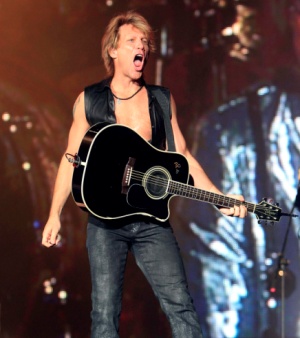 Bon Jovi durante show do Rock in Rio Madri
A segunda edição do festival de música Rock in Rio Madri começou nesta sexta-feira (4) e vai até o dia 14 de julho na capital espanhola, com estrelas como Shakira, Bon Jovi e Miley Cyrus.
Bon Jovi, John Mayer, os espanhóis Pereza e o DJ Paul Van Dyk eram algumas das propostas para a abertura do festival, que ocorre na Cidade do Rock, um amplo espaço ao ar livre de 200 mil m2 próximo a Arganda del Rey, no sudeste de Madri, que conta com três palcos e diversas atividades de entretenimento.
A colombiana Shakira, a americana Rihanna, os porto-riquenhos de Calle 13 e o DJ francês David Guetta estarão no menu de sábado no festival, celebrado pela primeira vez em Madri em junho de 2008.
Miley Cyrus, Amy McDonald e a banda El sueño de Morfeu se apresentarão neste domingo (6) no evento criado pelo empresário brasileiro Roberto Medina no Rio de Janeiro, em 1985, com vocação para expandir-se pelo mundo e dirigido a um público de todas as idades.
Na sexta-feira (11) se apresentarão a banda Rage Against the Machine, entre outros, e na segunda-feira (14), Metallica, Motorhead, Marillion e Barón Rojo estarão presentes.
O Rock in Rio foi organizado três vezes no Rio de Janeiro, em 1985, 1991 e 2001, e depois mudou para a Europa - Lisboa acolhe o festival a cada dois anos desde 2004 e Madri desde 2008.
Medina tem a intenção de buscar sedes em outros países europeus e na China, além de levar o festival para a América Latina. Os organizadores ainda anunciaram novidades.
- 2014 será o ano da concretização de um objetivo maior: realizar o Rock in Rio em três países simultaneamente.

Posted by Paulo Studio2002 @ sexta-feira, 4 de junho de 2010
0 comments
0 Comments
No comments yet. Be the first to leave a comment !