Derico é integrante do projeto 8 do Bem, que faz temporada de shows em São Paulo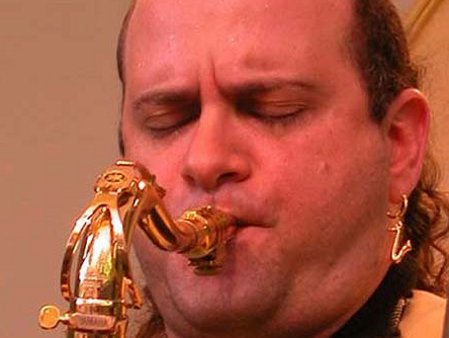 Ricardo Martins/Reprodução Site Oficial Derico
Derico também toca flauta e baixo
A banda 8 do Bem, criada em 2007 pelos músicos Ed Côrtes e Derico Sciotti, anuncia nova temporada de shows em São Paulo. "Toda segunda, a partir das 22h, até quando Osíris quiser", brinca Derico, em e-mail de divulgação dos shows. "Prestigiem, pelo suor de Tutancâmon!", implora, no e-mail.
O saxofonista brinca em entrevista à Agência Estado.
- Isso é a inspiração que vem dos deuses.
Ele explica que a curtição da banda é pegar músicas do universo pop de bandas e artistas internacionais como Bee Gees, Michael Jackson, Al Jarreau, James Brown e Britney Spears e dar um tom jazzístico, com arranjos de Ed Côrtes e Marcos Romera, com Tony Gordon nos vocais.
- É uma linguagem para um quarteto de metais, mas não é totalmente jazz... É difícil de explicar, até para nós. Mas não tem improvisações longas, tem começo, meio e fim. É linguagem com cara de jazz, mas o corpo da banda é pop. Tem até som do Nirvana!
Além de Côrtes (sax alto, sax barítono e clarinete) e Derico (sax tenor e flauta), o octeto é formado também por Nahor Gomes (trompete e flugelhorn), Sidnei Borgani (trombone), Marcos Romera (teclado), Sylvio Mazzucca Jr (contrabaixo elétrico), AC dal Farra (bateria) e Tony Gordon (vocal).
- É um pop dançante com uma mão de jazz, porque os músicos da big band são todos jazzistas.
8 do Bem
Quando: toda segunda, a partir das 22h
Onde: The Orleans - rua Girassol, 398 - Vila Madalena
Quanto: homem R$ 30 e mulher R$ 20
Contato: info@theorleans.com.br ou (11) 3031-1780
via R7

Posted by Paulo Studio2002 @ sábado, 12 de março de 2011
0 comments
0 Comments
No comments yet. Be the first to leave a comment !