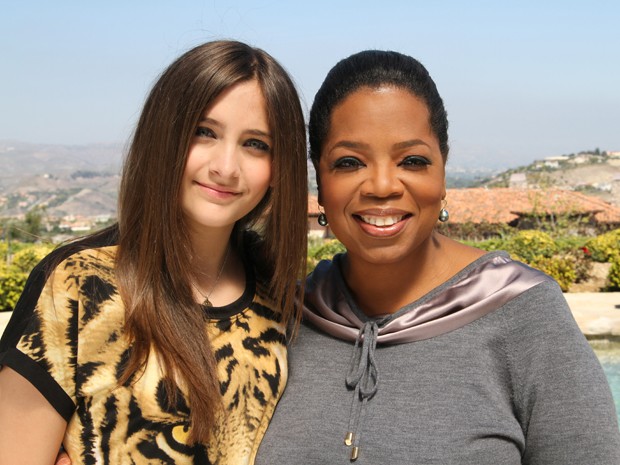 O cantor americano
Michael Jackson
fez com que seus filhos usassem máscaras quando andavam com ele para que não fossem reconhecidos quando saíssem sozinhos e pudessem ter uma vida normal, contou nesta quinta-feira (7) Paris, a filha do artista morto em 2009.
Em sua segunda entrevista pública, para um programa dirigido pela famosa apresentadora
Oprah Winfrey
, a jovem de 13 anos reconheceu que a princípio não entendia por que era obrigada a tapar o rosto quando era menor, assim como seus irmãos Prince Michael e Blanket.
"Mas agora eu entendo", disse Paris. "Quando saíamos sem ele (Michael Jackson), não nos reconheciam", completou, ao explicar que iam por exemplo a grandes lojas de brinquedos onde passavam despercebidos.
Segundo a menina, seu pai lhe "contou que quando era mais jovem, não teve uma verdadeira infância. Sempre ficava preso em um estúdio de gravação cantando, enquanto os demais estavam lá fora brincando. Ele quis que tivéssemos isso. Nosso pai era um pai realmente normal quando estava conosco. E nos repreendia quando fazíamos algo ruim", declarou.
Paris, que tinha 11 anos quando o rei do pop morreu em 25 de junho de 2009, está dando seus primeiros passos como atriz em um filme que mistura realidade e animação chamado "Lundon's bridge and the three keys", baseado em uma famosa série de livros para adolescentes.
Em outubro passado, apareceu no palco em um show em homenagem a seu pai com seu irmão mais velho, Prince Michael, de 15 anos, e o mais novo, Blanket, de 10 anos.

Posted by Viviani Corrêa @ sexta-feira, 8 de junho de 2012
0 comments
0 Comments
No comments yet. Be the first to leave a comment !