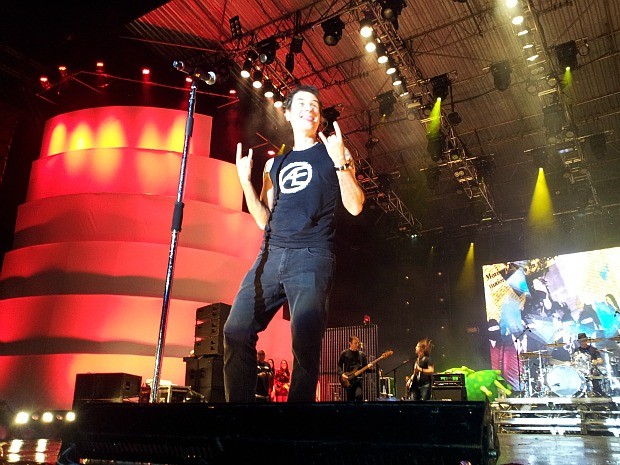 Completando 30 anos de estrada neste ano de 2012, o Capital Inicial se apresentou na noite desta quinta-feira (7) no Festival de Alegre, no Espírito Santo. Com todo tempo de estrada, o vocalista da banda, Dinho Ouro Preto, considera que tem bagagem suficiente para dizer que o rock no Brasil vive um momento de entressafra. Dinho disse que a rotulação de certas bandas não permite o surgimento de novos grandes nomes no rock.
"Posso dizer que vivemos uma entressafra do rock'n roll brasileiro. Continuamos buscando quem será o grande nome que vai assumir o topo. É preciso buscar se desfazer de alguns rótulos. Algumas bandas foram tachadas de 'emo' e não se desenvolveram. Quando há um rótulo é muito difícil se desfazer dele. Nós do Capital Inicial conseguimos fazer isso, antigamente tinha gente que ouvia a gente para relembrar os sucessos dos anos 80, mas mantivemos um ritmo forte e fizemos tantos discos que acabamos nos desfazendo desse rótulo, por isso eu vivo e respiro rock'n roll", afirma Dinho.
Na quarta-feira (6), primeira noite de shows em Alegre, o vocalista Di Ferreiro, da banda NXZero, disse que houve um amadurecimento do seu público. Para Dinho Ouro Preto, a evolução e o amadurecimento do NXZero é um exemplo a ser seguido pelas novas bandas.
"O NX Zero surgiu forte na primeira década do século XXI, mas tinha um público diferente e recebia alguns rótulos. Eu mesmo conversei e os aconselhei. Hoje eles são a grande banda de rock da primeira parte deste século. Hoje vejo algumas bandas fortes surgindo no Nordeste, que podem ocupar este posto", revelou.

Posted by Viviani Corrêa @ sexta-feira, 8 de junho de 2012
0 comments
0 Comments
No comments yet. Be the first to leave a comment !