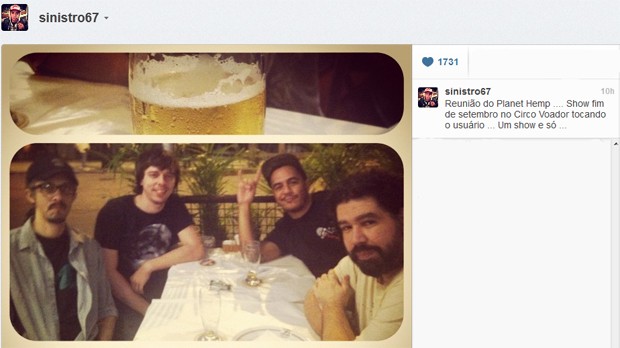 Marcelo D2 anunciou que o Planet Hemp se reunirá em setembro para uma única apresentação no Rio de Janeiro, tocando o disco "Usuário", de 1995. O músico publicou uma foto no Instagram na qual aparece com três dos integrantes do grupo, confirmando "um show e só" no Circo Voador no fim daquele mês.
Na imagem, D2 está sentado em uma mesa de bar ao lado do guitarrista Rafael Crespo, do baixista Formigão e do baterista Pedrinho. A mensagem afirma: "Reunião do Planet Hemp... Show fim de setembro no Circo Voador tocando o usuário... Um show e só...".
O Planet Hemp lançou três discos de estúdio durante sua existência - "A invasão do sagaz Homem Fumaça", de 2000, é o mais recente deles. Em 2001, a banda se separou, para dois anos mais tarde tocar no festival português Vilar de Mouros e, em 2010, se apresentar no VMB (premiação da MTV) em comemoração aos 20 anos da emissora.

Posted by Viviani Corrêa @ quarta-feira, 1 de agosto de 2012
0 comments
0 Comments
No comments yet. Be the first to leave a comment !