Ele disse que estava ao telefone com uma amiga do país no momento do terremoto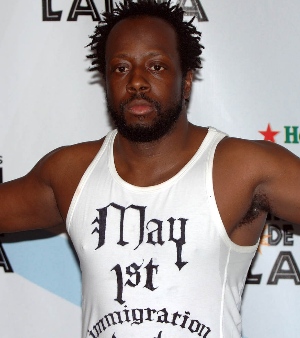 Foto por Grosby Group
O cantor Wyclef Jean é também conhecido pelo trabalho humanitário que mantém no Haiti
O cantor
Wyclef Jean
publicou em seu site oficial um pedido de ajuda às vítimas do
terremoto que aconteceu no Haiti
na última terça (12).
No comunicado, Jean enfatiza que é necessário "agir agora". Ele destaca que "os Estados Unidos precisam ser rápidos no envio de ajuda" e que "a comunidade internacional também precisa tomar uma atitude para ajudar as pessoas do Haiti de todas as maneiras possíveis".
Em entrevista à rede de TV CNN, o cantor disse que estava falando ao telefone com uma amiga do Haiti quando ela, de repente, disse que um terremoto estava começando e em seguida desligou o telefone. Ele contou que depois de cinco minutos conseguiu um novo contato e ela disse que os prédios estavam começando a desabar.
Jean ficou famoso no mundo da música após liderar a banda The Fugees. Em carreira solo, o cantor tem seis discos gravados. Ele também é bastante conhecido por seu trabalho humanitário. Em 2008, ele e o ator Matt Damon foram ao Haiti para chamar atenção do mundo e arrecadar ajuda para as vítimas de um furacão.

Posted by Paulo Studio2002 @ quarta-feira, 13 de janeiro de 2010
0 comments
0 Comments
No comments yet. Be the first to leave a comment !