Segundo jornal, agora é a vez do vocalista do U2 se encontrar com a presidenta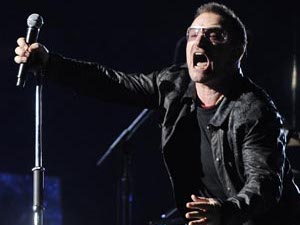 Divulgação
U2 fará shows em SP nos dias 9, 10 e 11 de abril
Segundo o jornal O Globo deste sábado (2), Bono Vox – o vocalista da banda U2 – quer se encontrar com Dilma Roussef em sua passagem pelo Brasil.
O assunto do encontro não foi divulgado. Mas ele será o segundo popstar a vir ao país e pedir uma audiência com a presidenta.
No dia 17 de março, Shakira se encontrou com Dilma para pedir ajuda para a fundação que ela coordena na Colômbia. A entidade, criada pela cantora, cuida de crianças carentes.
A banda U2 fará shows em São Paulo nos dias 9, 10 e 13 de abril. As apresentações estão com ingressos esgotados.
A data do encontro de Bono Vox e Dilma ainda não foi decidida.
via R7

Posted by Paulo Studio2002 @ domingo, 3 de abril de 2011
0 comments
0 Comments
No comments yet. Be the first to leave a comment !